2024 Trent Waldron Half Marathon And 10K
Trent Waldron Fund Raising Teams
For the first time we are going to have Fundraising Teams with the Trent Waldron race this year. Participants can create a team or join an existing team in RunSignUp.
There will be a special beautiful glass art award for the team who raises the most funds (see the photo below).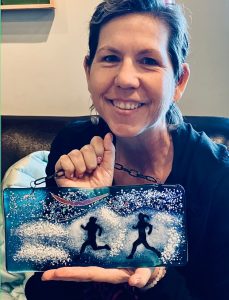 Don't think you can run a Half Marathon or a 10K race right now? No problem, you can still join a team and help fund raise without registering for the race.
To join a Trent Waldron fund-raising team: Go to the Trent Waldron page in RunSignUp and click the DONATE Button, or click the button below
Follow the instructions in RunSignUp.
In-person Race Details
The Trent Waldron Half Marathon & 10k will take place on Saturday - May 25, 2024 at Margaret Sullivan Part on West 15th Avenue. Cut off time to finish is 3:30pm. No personal pacers (runner without a bib) and absolutely no personal bike leads.

Course Information
The start and finish line is at Westchester Lagoon. The Half Marathon race course is an out-and-back along the Chester Creek and University trails. The course is relatively flat with the out portion being a gradual uphill. The aid stations are located at miles 3, 5.5, 7.5, and 10.
The 10K race course start and finish line is the same as the half marathon. The 10K turnaround is adjacent to the Davenport Park ball fields just east of the Lake Otis underpass.
Virtual Race Details
The Trent Waldron Half Marathon And 10K Virtual race takes place May 13 to May 31, 2024. Because this is a virtual race you run it where and when you want on your choice of running course. Please follow all pedestrian safety ordinances including running on a sidewalk where available and not in the road. Follow the rules of the road if no sidewalk or multi-use trail is available and run against oncoming traffic and not with traffic. Medals will be mailed out the first part of June to virtual participants.
Registration And Bib Pick Up
Bib Pickup Date: Thursday May 25th
Bib Pickup Time: 4:30-6:30PM
Bib Pickup Location: TBD
Bib pick up and registration is also available on the morning of the race from 7:30-8:45 am at Westchester Lagoon.
Late registration fees are in effect for runners registering after 11:59 PM, May 25, 2024.
Race entry fees are non-refundable and non-transferable.
Race Information
The Trent Waldron Half Marathon is a celebration of life for Marcie Trent and her son, Larry Waldron, who were killed on a training run in July 1995.   Marcie Trent and Larry Waldron both loved and encouraged running for everyone. Runners and walkers of all ability are encouraged to participate.
The Trent Waldron race benefits Anchorage Young Cancer Coalition, and again this year a portion of the proceeds from this race will go to this deserving non-profit.
Half Marathon early wave at 8am for participants who anticipate needing more than 3 hours to complete the course. Half Marathon start at 9am and 10K start at 9:20am. You must start at your specified time for race-early starts will result in a disqualification (i.e. a 10K runner may not start at 9am with the Half Marathoners).
The Trent Waldron Half Marathon and 10k will have awards for the top three male and female runners using an age-graded calculation. Age-graded scoring allows all individuals within an event to be compared to one another, regardless of age. Please check the results to see if you placed.
Due to insurance requirements dogs are not allowed at this event and we ask that you leave them at home. Strollers are allowed at the Trent Waldron events, we just ask that you start in the back.
Date: Saturday - May 25, 2024

Race Start Time:

Half Marathon Early Wave (walkers): 8:00 AM

Cut Off  Time: Finish by noon

Race entry fee: 

Running Club members who register early receive $5 off their entry fee.

Awards: Awards will be given out at approximately 10:45 AM for the 10K and 11:00 AM for the Half Marathon`
Thank you to our Sponsors